Preferences allows you to adjust the main setting, interface and integrations of DAEMON Tools Ultra. Go to the Options menu and choose Preferences option or simply press Ctrl+P. Preferences option consists of 7 tabs.
General tab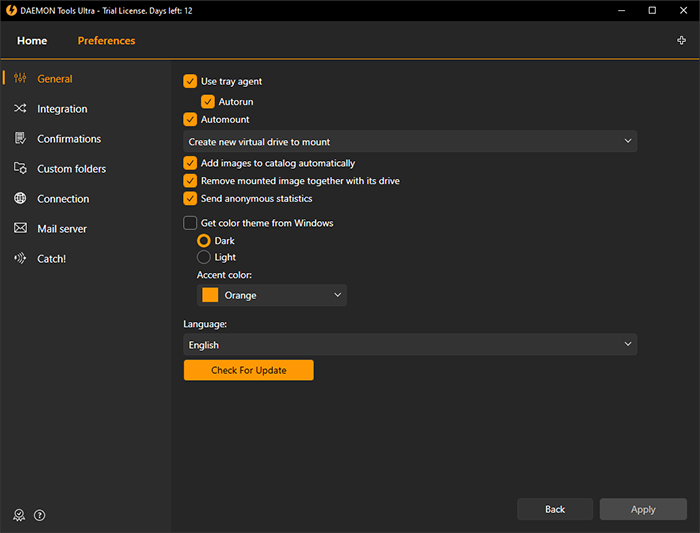 General tab allows you to adjust different important setting of DAEMON Tools Ultra. Here you can define the following options:
Use tray agent option allows launching DAEMON Tools Ultra Agent.
Autorun option launches DAEMON Tools Ultra Agent on system startup.
Automount option allows DAEMON Tools Ultra to mount images automatically on system startup, if they were mounted after the restart. The images from network and the images protected by password won't be mounted automatically.
Create new virtual drive to mount and Mount to existing virtual drive options allows you to choose whether you want to create a new device each time a new image is mounted or whether you want to re-mount the previously created drive.
Add images to catalog automatically helps keep newly created images, HDDs or TrueCrypt files at hand.
Send anonymous statistics option helps the developers learn how you use the program in order to improve it in the next versions.
Transparency effects option permits whether to enable or disable DAEMON Tools Ultra interface transparency.
Language drop-down list allows you to choose the language of the interface.
Check for updates automatically option allows DAEMON Tools Ultra to verify the availability of new versions from time to time. Check now button goes to the server immediately.
Integration tab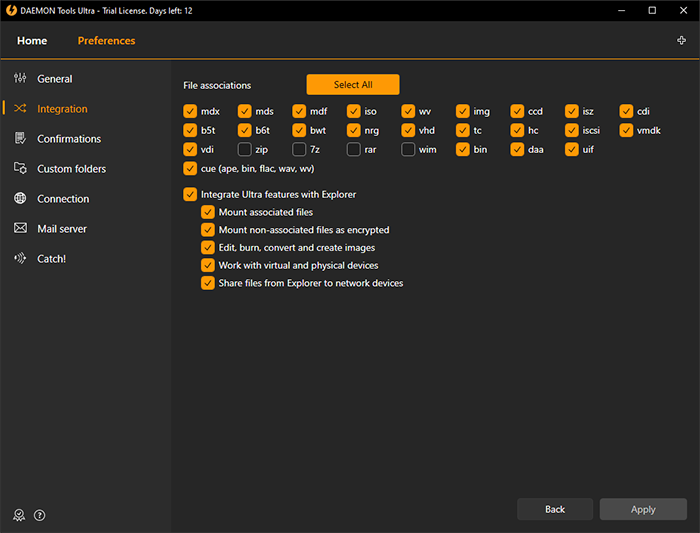 Integration tab allows you to choose the types of image files that you will be able to use in DAEMON Tools Ultra. Click Select All button to associate every available type with the program or Unselect All button to block the associations with any image type.
Integrate Ultra features with Explorer option provides access to basic DAEMON Tools Ultra features right from Explorer. If it is checked, you will be able to mount, edit, burn, convert images to discs from the contextual menu of an image file found on your PC. By default, all available actions are enabled. You can choose the ones you need or not checking the following options:
Mount associated files option will add the Mount option to contextual menu of associated files.

Mount non-associated files as encrypted option is useful if you need to hide your encrypted file. For example, you can change the file extention to *.txt (or any other you prefer) so nobody except you would know it's actually an encrypted file. DAEMON Tools Ultra will propose you to mount this file anyway. Note that as any encrypted file, it will need a password.

Edit, burn, convert and create images option will add the mentioned options to contextual menu of associated files. Edit, Burn and Convert options are available for image files, Create option will appear for any files and folders.

Work with virtual and physical devices option permits to mount or remove and eject virtual devices and grab images from the physical ones.

Share files from Explorer to network devices option permits to add Share with Catch! option to contextual menu in Explorer.
Confirmations tab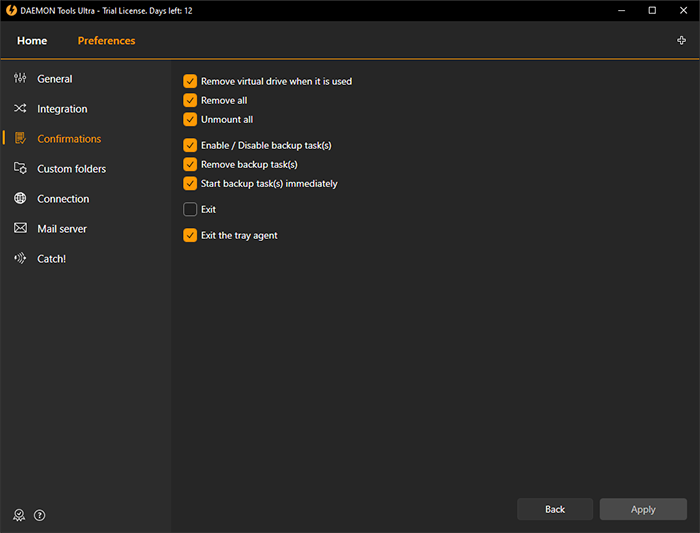 Confirmations tab is used to configure the confirmation dialogues for some functions, for example, unmounting images, deleting them from catalogs or closing the program. If you don't want to confirm certain actions, uncheck the relevant options on this tab.
Custom folders tab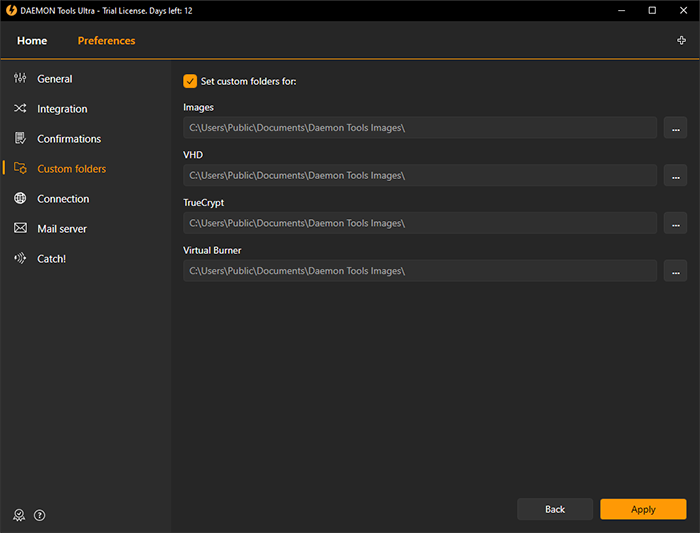 Custom folders tab allows you to change the default paths for the folders to which the newly created images are saved. You can set different folders for different image types or leave the default values. On each wizard that allows creating an image file, you will be able to change the path if necessary.
Connection tab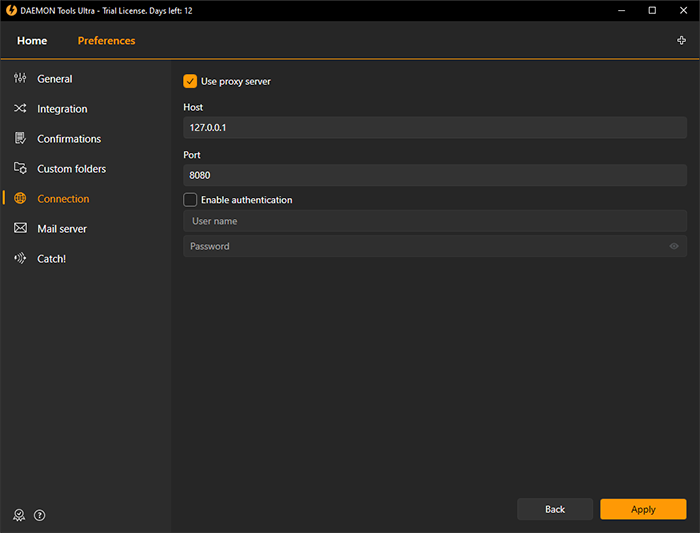 Connection tab is used to define settings for proxy server, if proxy is used for updates. Here you need to enter Host name and Port for proxy server and type the login and password, if authentication is necessary on the server.
If you want to activate DAEMON Tools Ultra via DAEMON Tools Net server — choose the second option and set the IP address of the server PC. If you have issues with this type of activation, contact your local network admin.
Mail server tab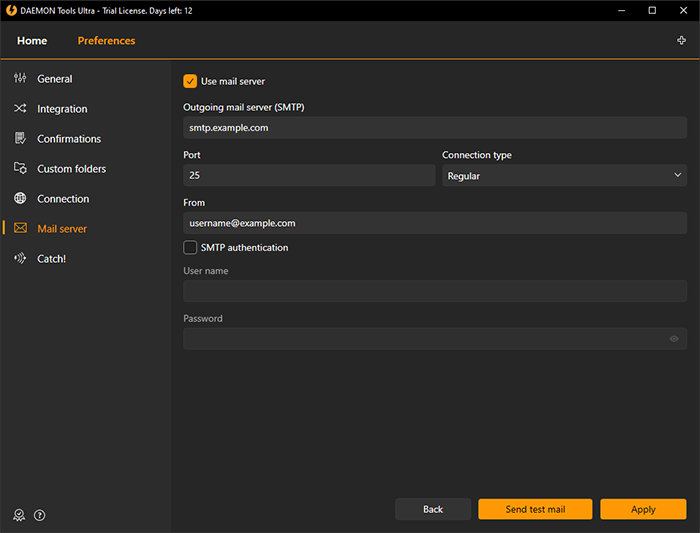 This option is used for managing backup tasks. You choose the outgoing mail server for the notifications by yourself. Here you will need to define the server, port, sender, login and password for the outgoing mails. And you can send a test mail to check if the settings are correct.
Catch!
Here you can configure Catch! settings. Follow the link to know more.
Don't forget to click Apply button, if you want to save new settings or Close button, if you want to cancel the changes.