To turn on and use this feature, choose Adjust tile in the Home window, and then choose Catch! tab on a sidebar. The following window opens in the Main zone: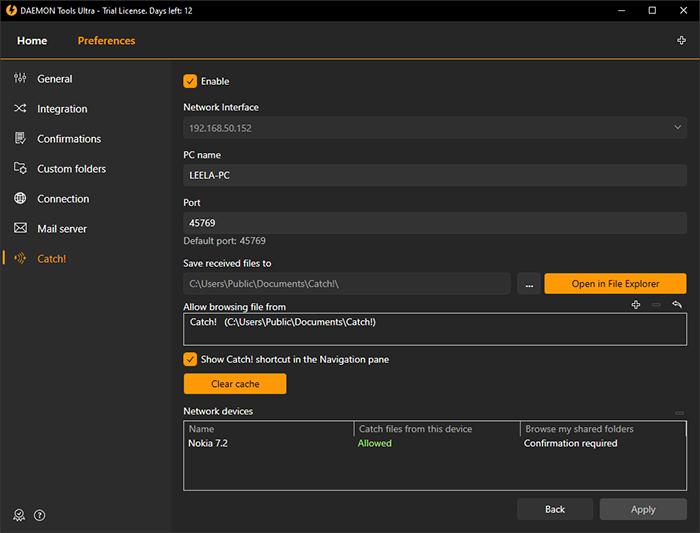 Choose Enable to turn this feature on

Your IP is set by default, although if you have multiple network adapters on your PC — you can choose the needed address

Set the PC name. That's how the other devices will see you in the network in DAEMON Tools Lite and in Explorer

Change the Port if needed, although we strongly recommend to leave it the way it is by default according to your local network settings

Pick the folder where all the received files will store, or leave the default settings. Press Open in File Explorer to open the destination folder

The list of Trusted and Blocked Network devices is indicated in the window below. To add a new PC to the Network devices you need to accept the sending file request and pick Allow
If you choose Block this device option when a sender throws a file, his PC will appear in the list with Blocked status, and you will no longer receive the files it sends. To remove the PC from the black list, choose the PC and press the X in the top right corner of the Network devices list.
To add a Shell Extension that permits to send files directly from Explorer to any available network device, go to Integration tab and check the Share files from Explorer to network devices
Once you've configured these settings press Apply and you're ready to go!