Since DAEMON Tools Ultra 5, we offer subscriptions together with the perpetual licenses. To start using DAEMON Tools Ultra 5, you can choose from several low-priced subscription periods and then prolong your subscription when you need an app again. Before you go, here is 14-day Free Subscription that may help you evaluate the features.
Starting with DAEMON Tools Ultra 5.4, the activation process was transfered to the application directly. Each user gets 3 days of free trial for the new DAEMON Tools Ultra version without the need to complete the registration process.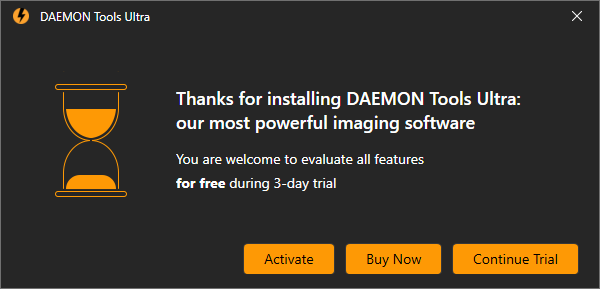 Once a 3-day trial is over, you have two options: whether purchase the license or register DAEMON Tools account for another 14 trial days if this is the first time you try DAEMON Tools Ultra.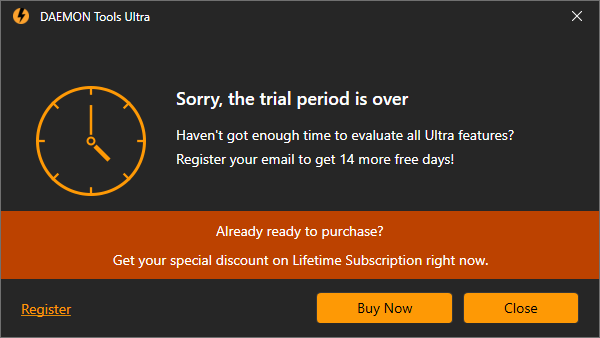 If you choose Buy Now, you will be redirected to the cart to complete the payment.
If you choose to Register, the following window opens: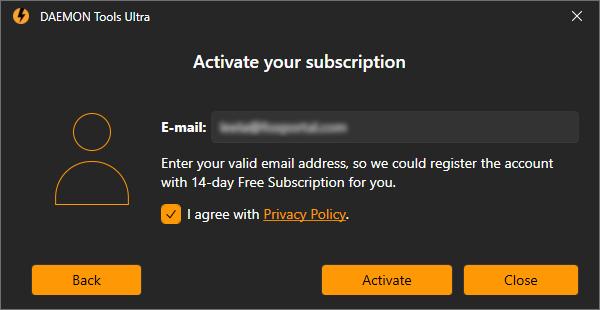 You can activate the 14-day Free Subscription. Enter your e-mail address, agree with Privacy Policy, and click Activate. You will receive the code on the mentioned e-mail address. If there's no message in your Inbox, check the Spam folder, or try to resend or Change email. Once you've got the 6-digit Activation code, you can proceed to the next step.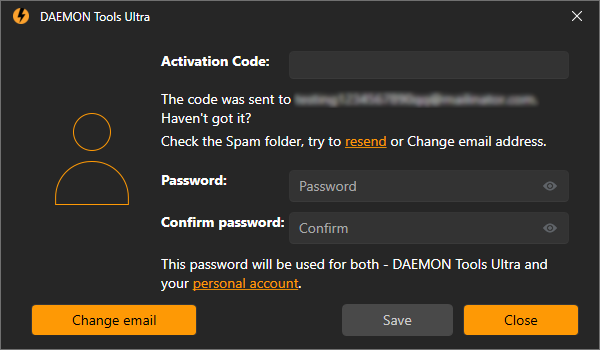 Enter the Activation code, pick and enter the password for both DAEMON Tools Ultra and you personal account, confirm the password, and press Save.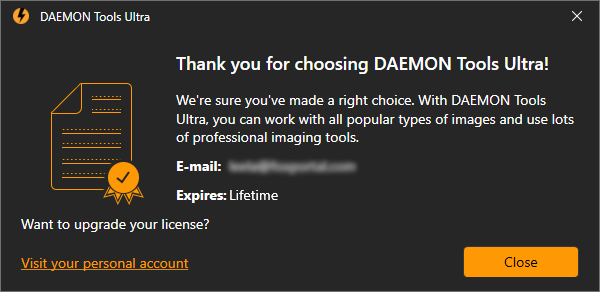 The following window opens. Your e-mail and the expiration date are both shown, and in case you would like to upgrade your license — Visit your personal account to do that.
If you would like to switch to another account — you need to open the License wizard (check the icon in the bottom left corner), and press Change. Also, here you can Refresh the activation status, if the info about it hasn't been updated automatically. Refresh is available for free subscription only.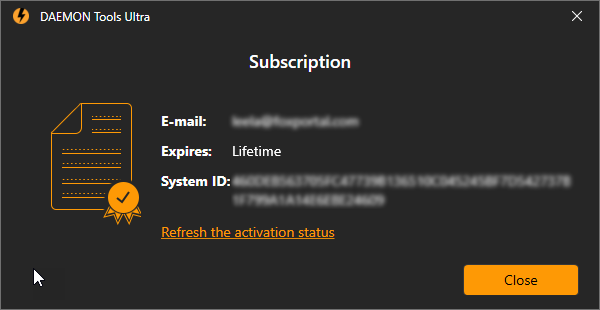 The following window opens, you can enter your credentials and sign in with another account. If you forgot your password you can Reset it. To change an email for the Paid Subscription, please contact our Support Team.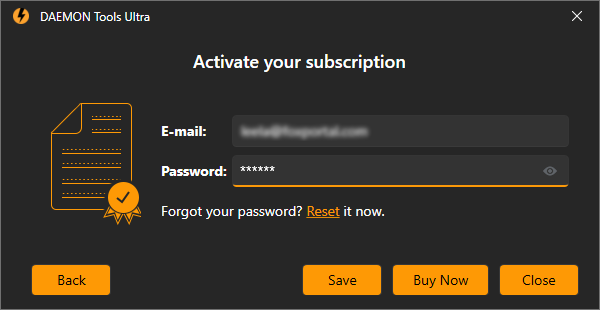 In case your DAEMON Tools Ultra trial has already expired (the one that was assigned to your System ID) — 14 trial days are no longer available.
DAEMON Tools Ultra 4.1 and earlier versions are activated by serial numbers.