DAEMON Tools Ultra Agent is an icon in the task bar that helps using the main functionality of DAEMON Tools Ultra without opening a program.
To enable DAEMON Tools Ultra Agent, go to Preferences and click General tab: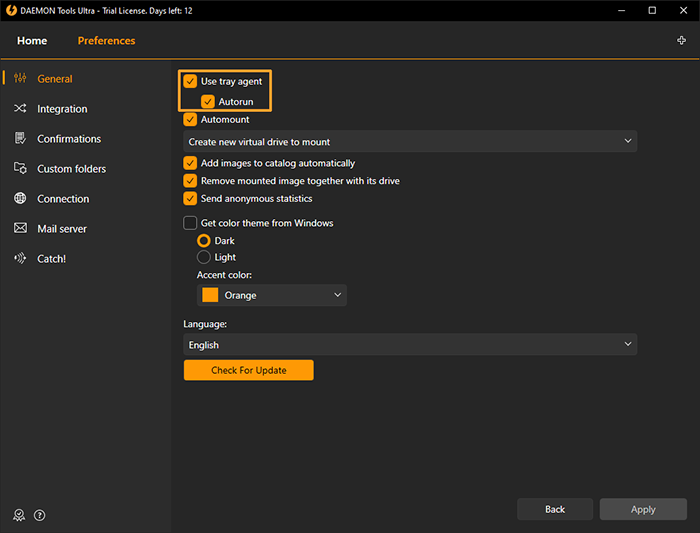 Use try agent option enables DAEMON Tools Agent.
Autorun option makes Agent available for use on system startup.
Right click on the Agent icon in the taskbar opens its full menu: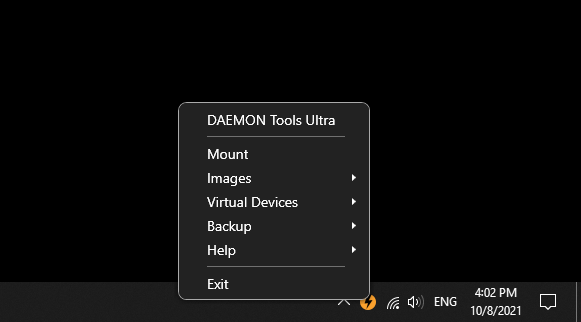 DAEMON Tools Ultra option launches the program.
Mount option allows you to find a new image file on the hard disk and mount it.
Images option includes all files from your collection. You can mount any of them from Agent.
Virtual Devices submenu consists of all active drives. Each drive has its own menu which allows you to open a mounted disc or unmount it.
Backup option permits to create New task, Enable all, Disable all existing tasks, and Show log.
Help option provides access to Manual (you're here now), Forum and Support Request form.
Exit option closes DAEMON Tools Ultra Agent.
Left click on the Agent icon opens the list of active virtual devices and allows unmount all of them or mount a new image.