If you want to create a disc with audio files which will be playable with CD- players, you should burn it as an Audio CD.
To burn an Audio CD, enter Burn an Audio Disc to the field in the main window, or click the Burn tile and pick Audio Disc. Here you will need to perform several easy steps: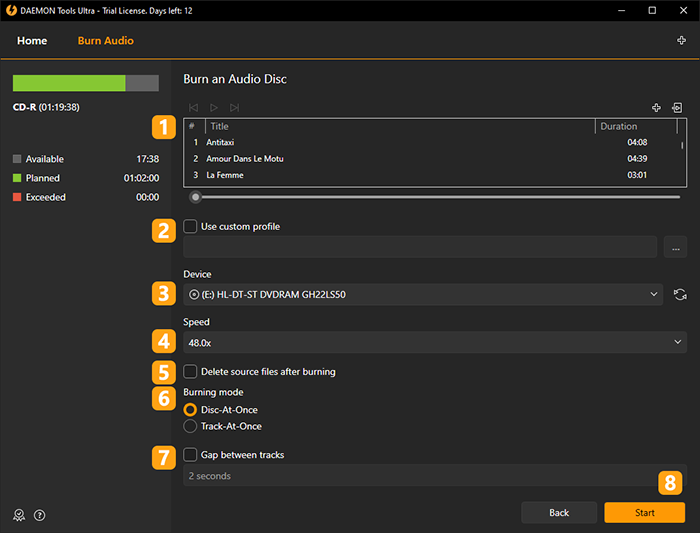 Add audio files you want to burn. Use Add Files or Import From Image icons to fill the list of tracks. Also you can listen to added files, using simple audio player embedded to DAEMON Tools Ultra, or rearrange them from the contextual menu.
If you have a ready Template, you can choose and Use custom profile.

Insert CD-R or CD-RW into drive and check the available space on it.

If you have inserted a non-empty rewritable disc, you can erase it before burning having chosen the relevant option.

Choose writing Speed according to the inserted disc. The duration of burning process depends on this option.

Check Delete files after burning option if you don't want to store the source files on the hard disk.
Chose the needed Burning mode.
Check Gap between tracks option to add an interval between audio files.
Click Start button to burn an Audio CD or Back button to return to Images.